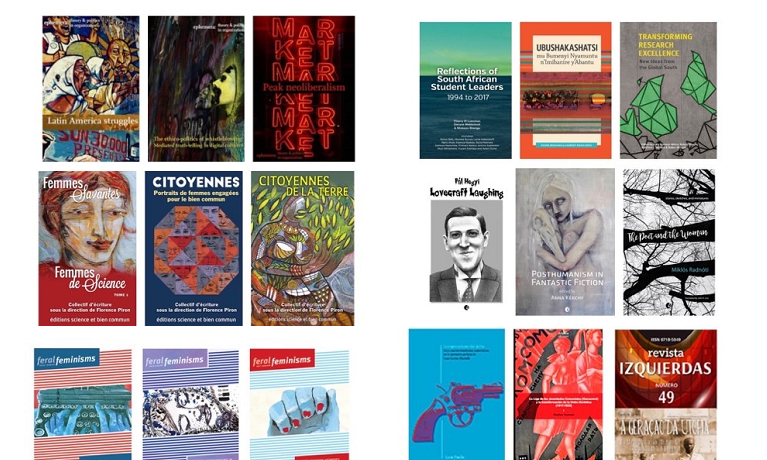 This page lists resources towards collaborative marketing as well as events which the Collective's members will be attending, either as speakers or with the Radical OA book stand. We will also list events on publishing or open access organised by the members of the Collective or events that might be otherwise of interest to this community.
We have also created a Virtual Book Stand of ROAC member publications for further promotion and use at online and hybrid conferences. You can find the Virtual Book Stand here: https://radicaloa.disruptivemedia.org.uk/latest-publications/
We encourage presses to explore collaborative approaches to marketing at conferences and beyond. We also aim to provide marketing materials about the Radical OA Collective that can be displayed on tables and added to conference packs. Please get in touch if you would like to feature the Radical OA bookstand at your event.
If you are willing to promote the publications of other presses in the network or would like to collaborate on a press stall as part of one of the conferences listed underneath, please send an email to the mailing list or make arrangements amongst each other.
Lists of forthcoming events
The following sites list forthcoming events related to open access publishing.
Open Access Directory: http://oad.simmons.edu/oadwiki/Events
Open Access Scholarly Publishers Association: https://oaspa.org/events/
Videos from past events
The following videos are from the talks presented at Radical Open Access Conference, Coventry University 15/16-06-2015.
The conference presented two days of critical discussion and debate in support of an 'alternative' vision for open access and scholarly communication. The aim of the conference was to explore some of the intellectually and politically exciting ways of understanding open access that are currently available internationally. A particular emphasis is placed on those that have emerged in recent years in the arts, humanities and social sciences.
Radical OA Conference – Introduction: Gary Hall and Janneke Adema
Radical OA Conference – Panel 1. A Multitude of Models: Radical Open Access in Practice
Radical OA Conference – Panel 2. Affirmative Disruption: Diamond Open Access, the Academic Gift Economy and the Common
Radical OA Conference – Panel 3. Radical Accountability
Radical OA Conference – Panel 4. 'Open': Alternative Genealogies
Radical OA Conference – Panel 5. Chains of Equivalence: From Open Knowledge to Internet Piracy
Radical OA Conference – Panel 6. Radical Open Access: Towards a Critical, Experimental and Processual Posthumanities
Radical OA Conference – Closing Remarks. Is A Radical Open Access Network Possible?